Municipal court hearings sometimes become endurance events of their own when attorneys are thrust into hearings late at night at the direction of the court.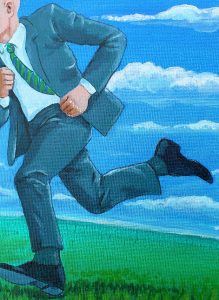 TRIAL-ATHON
Article by Peter H. Lederman, Esq.
Published in the New Jersey Law Journal
The first modern long distance Triathlon, the "Ironman" was the Hawaiian Ironman which consisted of a 2.4 mile swim, a bike ride of 112 miles and marathon run of 26.2 miles. Participants of the event, organized by Commander John Collins, were told by Commander Collins, "Swim 2.4 miles! Bike 112 miles! Run26.2 miles! Brag the rest of your life! Whoever finishes first, we'll call him 'the Ironman' ".
Municipal Court hearings sometimes become endurance events of their own when attorneys are thrust into hearings late at night at the direction of the Court. They are not in the best interests of justice and certainly not in the best interests of defendants. These hearings, often involving DWI complaints, begin at the end of a night session, after pleas have been negotiated and put before the court. At times attorneys are directed to start hearings after 10:00 at night.
Of course, when discussing DWI cases, we are usually talking about complex cases with the greatest potential jeopardy to the defendant. These matters almost always involve suppression motions and trials with the most involved legal and factual issues before Municipal Courts. Conviction always results in the loss of critical driving privileges and the payment of thousands of dollars in fines and surcharges. In some cases, a finding of guilt must result in the loss of freedom.
In these situations, "endurance" becomes an additional quality that is required for effective advocacy. To be a good ("great") advocate, knowledge of the law, Court and Evidence Rules is essential. A theme of the case and goals for the client must be developed. Scorching cross examination has to challenge the Officer's testimony. Complete knowledge of the file and thorough preparation are essential.
When the hearing commences late in the evening however, the attorney must apply additional skills. He must also be a trial athlete. The attorney must provide more than what is normally expected of him during the day. He must provide the same level of representation, even though it is at or near the "witching hour".
When I have been instructed to start a trial at late hours, I have objected on the grounds that I cannot provide effective assistance counsel at 10:00 at night. Can I try the case? Sure. Can I do my job as well as I could under normal circumstances, of course not. As the Judge from my Prosecuting days would often say, "the quality of justice diminishes as the hours progress". Of course, he was right. It does not take a bevy of consultants to determine that we simply fail to perform at the same level of competence as time passes and fatigue becomes a factor. Think about starting a work day at 8:00 in the morning, working all day and starting a hearing 14 hours later! It simply makes no sense. Not if we jealously guard a defendant's right to effective assistance of counsel as guaranteed by no less that the Sixth Amendment to the Constitution of the United States.
Of course, there is a reason for this problem. This practice is the product of a Municipal Court system expected to provide fair resolutions to complaints while complying with the Supreme Court's "Sixty Day Guideline", where ninety percent of DWI cases must be resolved within sixty days of inception. Municipal Courts are scrutinized by Superior Court Assignment Judges and Presiding Municipal Court Judges for compliance with this standard. Consequently, Judges feel compelled to force trials into available court time in order to comply with the Guideline.
A simple solution would be to add court sessions when DWI trials and other time consuming matters could be heard. If only courts could schedule additional sessions, the problem would be solved. But the solution is not simple and the problem cannot be easily solved.
This is because most courts do not have the ability to schedule additional sessions to meet case load requirements. The court's purse strings are controlled by the municipality. Municipalities continue to view courts as profit centers creating revenue for the town. The paradigm is to maximize revenue by minimizing cost. Court sessions cost money in terms of Court Administrator, Judge, Prosecutor and Court Attendant compensation, not to mention indirect costs . Towns simply won't pony up the money to pay for extra sessions, which would allow hearings to start at 10:00 in the morning, rather than at 10:00, during a regularly scheduled evening session.
If towns are immoveable objects in this regard, the Supreme Court should step in, in its Rule making capacity, to control when DWI and other time consuming matters are heard. In fact, a request was made to the Supreme Court Committee on Municipal Courts to propose such a Rule change. A statement of the Committee's response can be found in the Committee's Report dated January 15, 2015. The bottom line is that the Committee chose not to suggest a Rule change which would address this problem. One objector claimed that a Rule change was unnecessary because, "there are no other similar Court Rules restricting the scheduling of trials in Superior Court trial divisions". When was the last time any attorney was involved in a non-emergent Superior Court matter at 10:00 at night?
Attorneys strive to provide the highest level of legal services for our clients, charged with offenses involving the most severe consequences which can arise from a municipal court prosecution. We should not be required to be trial athletes in addition to everything else which is expected of us. I don't need to be an "Ironman". I just want to do my job.
Reprinted with permission from the October 2015, issue of the New Jersey Law Journal. © 2016 ALM Media Properties, LLC. Further duplication without permission is prohibited. All rights reserved.