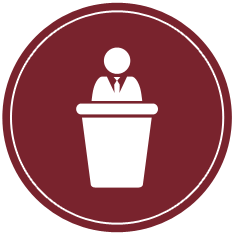 Continuing Legal Education Seminars
for Attorneys in New Jersey
Any attorney licensed to practice law in New Jersey may appear in Municipal Court and represent a defendant charged with DWI. DWI defense, however, is a specialized area of law requiring special training and knowledge in different aspects of DWI defense. Therefore, it is essential that lawyers make themselves as current as possible with issues involving charges of driving while intoxicated. One of the best ways to do this is to attend seminars regularly presented dealing with different topics in DWI defense.
In addition to regularly attending DWI seminars and conferences, Peter Lederman has been active in presenting DWI seminars to attorneys across the State of New Jersey. Following is a list describing some of the DWI speaking engagements and educational seminars in New Jersey:
New Jersey Bar Association Convention – earn CLE credits during this annual meeting and convention.

Boardwalk Seminar® – DWI Updates addressed at this Atlantic City, NJ. Hosted by the New Jersey Association for Justice, Education Foundation INC.

Rutgers University Center for Alcohol Studies, Institute of Addition Studies conducts "Summer School" seminars for continuing professional development. Our practice brings us into contact with individuals whose alcohol issues range from one time events involving excessive alcohol use, to individuals with bad alcohol habits to others who suffer from alcohol addiction. Our objective in the participation in the Rutgers program is to help us help our client get the assistance they need.

Some legal education seminars qualify for credits towards municipal court certifications as approved by theBoard on Continuing Legal Education of the Supreme Court of New Jersey. Seminars involved school zone sentencing, 10-year step down provisions, post-conviction relief applications made for prior offenses, plea bargaining, appeals, and dealing with companion criminal complaint matters.

Seminars have been presented to the New Jersey State Bar Association Municipal Court Section concerning recent changes in DWI law.

Peter Lederman has had multiple speaking engagements with the Middlesex County Bar Association Municipal Court Committee involving DWI sentencing issues. In 2012 his presentation was captured into a series of videos. The first video released discusses the importance of the State vs. Bernokeits during a suppression hearing.

Our office has presented numerous seminars involving the Alcotest 7110 MK III-C breath test device to Bar Associations around the State of New Jersey.

We also appeared at a conference of New Jersey Intoxicated Driver Resource Center Program (IDRC) providers. These individuals provide alcohol counseling where DWI defendants have been convicted as part of the Intoxicated Driver Resource Center program required by statute.

We have also taken part in a series of seminars sponsored by the Mercer County Bar Association involving the recent changes in the Driving While Intoxicated law.

We organized a three part seminar for New Jersey Institute for Continuing Legal Education, to assist attorneys with DWI trial skills involving both trial preparation and trial technique with special emphasis on the trial issues concerning the Alcotest 7110 MK III-C breath test machine. These seminars were given at the locations around the State of New Jersey.

A seminar for the American Trial Lawyers Association addressed many important DWI issues.

The National College for DWI Defense or "NCDD", is the foremost association of DWI attorneys in the United States and is dedicated to the advancement of DWI advocacy on behalf of Defendants in DWI prosecutions. Attendance at these conferences provide opportunities to discuss new approaches to DWI defense with colleagues from across the country. These seminars and conferences are presented both locally and around the country.