A Driving While Intoxicated (DWI) is a serious charge in New Jersey. The Municipal Courthouse of Freehold Township may impose mandatory fines, surcharges, community service, interlock devices, driver's license suspensions, permanent records of conviction and in some cases mandatory jail.
Hire an Experienced DWI Lawyer
It is imperative that you hire a lawyer experienced in DWI/DUI cases for your legal defense.  The DWI attorneys in the law offices of Lomurro Law have been defending DWI cases throughout New Jersey for over 35 years.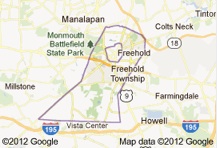 Municipal Courthouse of Freehold Township
One Municipal Plaza
Freehold Twp, NJ 07728
(732) 294-2150
Contact Our DWI Attorneys for Your DWI/DUI Defense
Call 732-414-0300