Selected at Best DWI Lawyer in NY Best Lawyers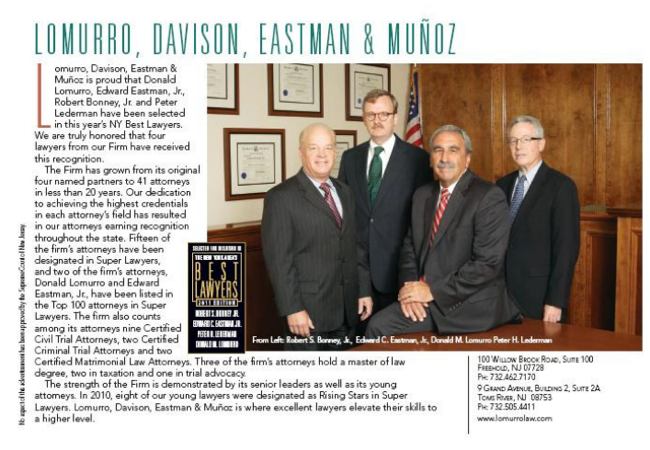 NY Best Lawyers
2011 Edition – Peter H. Lederman, Esq was one of four Lomurro, Davison, Eastman & Munoz attorneys selected in the New York Area's Best Lawyers – 2011 Edition.
EXCERPT
Lomurro, Davison, Eastman & Munoz is proud that Donald Lomurro, Edward Eastman, Jr., Robert Bonney, Jr. and Peter Lederman have been selected in this years's NY Best Lawyers. We are truly honored that four lawyers from our Firm have received this recognition.
The Firm has grown from it original four named partners to 41 attorneys in less than 20 years. our dedication to achieving the highest credentials in each attorney's field has resulted in our attorneys earning recognition throughout the state. Fifteen of the firm's attorneys have been designated in Super Lawyers and two of the firm's attorneys, Donald Lomurro and Edward Eastman, Jr. have been listed in the Top 100 attorneys in Super Lawyers. The firm also counts among its attorneys nine Certified Civil Trial Attorneys, two Certified Criminal Trial Attorneys, and two Certified Matrimonial Law Attorneys. Three of the firm's attorneys hold a master of law degree, two in taxation and one in trial advocacy.
The strength of the Firm is demonstrated by its senior leaders as well as its young attorneys. In 2010, eight of our young lawyers were designated as Rising Stars in Super Lawyers. Lomurro, Davison, Eastman & Munoz is where excellent lawyers elevate their skills to a higher level.